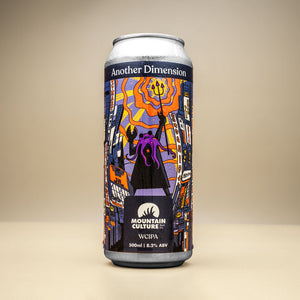 Another Dimension - WCIPA

This dry and resinous West Coast IPA is another explorative adventure into the utilisation of liquid hop extracts, and has been crafted using new hopping methods coming out of the West Coast of America.
Trying to squeeze every little bit of flavour from the liquid hop extracts of Centennial Incognito, Citra Spectrum, Galaxy Spectrum; as well as Centennial and Simcoe to give us the desired result of a bouquet of lemons, oranges and passionfruit required an insane amount of research and problem solving.
But after many emails, phone calls, complex pump setup diagrams and graphs about oil disbursement we were left with Another Dimension. Or IN another dimension? We're still not sure.
500ml | 8.2% ABV