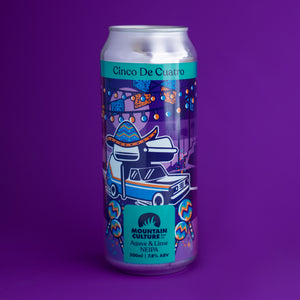 Cinco De Cuatro - Agave & Lime NEIPA

Whilst Cinco de Cuatro is usually celebrated in Newport Beach, CA, high up on the Great Western Highway we are joining the festivities and celebrating with a deliciously juicy New England IPA.
We have used the trusty hop combination of Idaho 7, Citra and Mosaic to give it that tropical fiesta vibe, whilst also throwing in a whole bunch of agave nectar and lime to keep the party going with its tangy, late-night bottomless margarita qualities.
So happy Cinco de Cuatro everyone. Hopefully this doesn't detract from your Cinco De Mayo plans.
500ml | 7.8% ABV