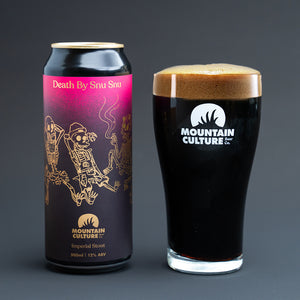 Death By Snu Snu - Imperial Stout

To welcome the 2022 Stout Season, we have designed a traditional recipe using the ancient legends of Amazonia and a subscription to Cosmo magazine. Packed with the luxuriously rich flavours of chocolate and freshly roasted espresso beans, it has an ABV that is built like a steakhouse but goes down as easy as a bistro. This mind blowingly delicious, pelvis crushing stout finishes as smooth as velvet and is as pleasurable as it is devastating.
"I never thought I would die this way, but I kinda always hoped." Philip J Fry, 2002.
500ml | 12% ABV