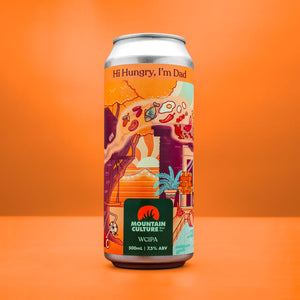 Hi Hungry, I'm Dad - WCIPA

The hop schedule for this West Coast IPA is so indulgent yet mismatched you'd be forgiven for thinking a hungry child wrote the recipe as a bad joke.

This West Coast IPA marks the first time in almost four years that we've used Huell Melon hops and the first time we've used Ekuanot and Cashmere in a clear IPA. We've also added some Cascade and Amarillo in the whirlpool as a safety net.
This beer teeters on the edge of making sense and there is a certain vulnerability and awkwardness in it, much like a well-executed dad joke, so hopefully you can't help but like it. In fact, we're gunning for a healthy dose of unexpected laughter (that's not just ours.)
500ml | 7.5% ABV