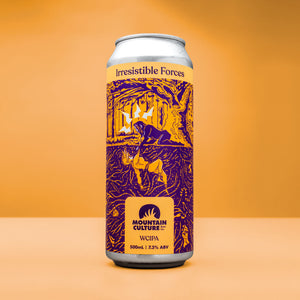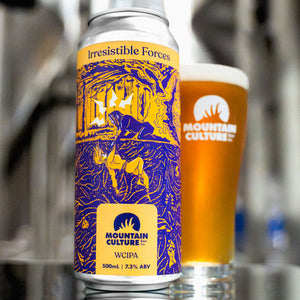 Irresistible Forces - West Coast IPA

For those who like their West Coast IPA's a little more fruity, you might find this one irresistible. Much like how we found the allure of some of our newest hop varieties we've had the pleasure of playing with irresistible when we were writing the recipe for this beer.
In the interest of making each beer truly unique we decided to use hand-selected Comet from Yakima Chief, Peacherine from Freestyle Farms and, Mountain Culture's favourite hop for West Coast IPA's, Simcoe.
What we created was a distinctive bouquet and flavour palette of yellow grapefruit, overripe nectarine and zested lemon and lime that makes this beer truly stand out and made our brewery sensory panel very excited. We hope it has the same effect on you.
500ml | 7.3% ABV