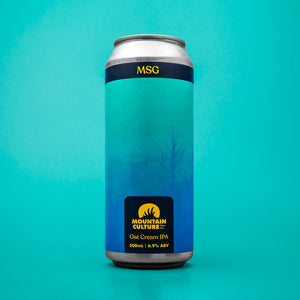 MSG stands for Monosodium Glutamate which is a flavour enhancer that naturally occurs in tomatoes and cheeses. MSG is typically used as a food additive in 'fast foods'. However, that has nothing to do with this creamy NEIPA which is packed full of the Mosaic, Simcoe and Galaxy hops we all love.
Ohhh, wait, M.S.G, ohhh now I get it! Well this hop combo paired with lactose is kind of cheating but flavour enhancement works for fried chicken so why can't it work for us?
Contains lactose.
500ml | 6.9% ABV 
Customer Reviews
09/06/2021
Peter J.

Australia
One if the best!
MSG is the benchmark for Oat Cream IPAs! A must buy everytime it's brewed. Outstanding
09/02/2021
Stuart C.

Australia
Another Smooth Outcream from MC
Always buy mountain culture oat cream when I see it. This one is super juicy up front and pours with a great head. A great beer to kick start the night
09/02/2021
Eugene B.

Australia
Cream ……. Sha Boogie Bop
Oat Cream IPA was the hook that got me to commit to the Mountain Culture experience and never looked back since. Look up in the air it's your guitar.. (thanks Prince)