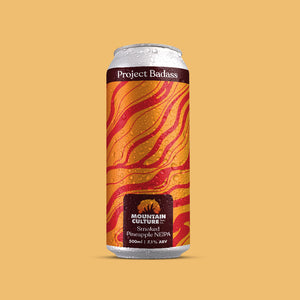 Project Badass - Smoked Pineapple NEIPA

For our first Mountain Culture festival, we decided to challenge ourselves and some of the best breweries in the business in a way they never thought, or hoped, they'd be challenged. The challenge was to brew a Rauchbier, potentially the least popular beer style in the world, and make it taste awesome using modern-day techniques.
Our smoke-inspired brew used the base of our most popular New England IPAs and generated the smokey character by adding a whole field of freshly smoked pineapple during secondary fermentation. Generous additions of BRU-1 enhance the sweet pineapple flavours and complements the thick, juicy mouthfeel.
500ml | 7.1% ABV