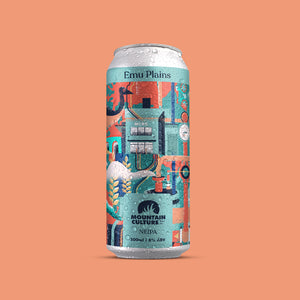 It seems like just yesterday that we opened our 60 hL brewpub in the Blue Mountains, where we would sit in a containership with half a plane on top of it writing these descriptions. Now, two years on, we are sitting in somewhat of a real office with a brewery 15 times the size working away endlessly on the other side of the office wall.
But none of that would be possible without your support, so here's to Year 2 with you! Let's celebrate with some of the finest birthday cake and the classiest bottle of bubbly our accountant will let us buy!

Because that's how adults usually celebrate a 2nd birthday right?

Contains :
0.15mls of Dom Perignon Vintage 2010/Litre
0.08g Homebrand Vanilla Sponge with Jam & Cream and Chocolate Icing/Litre

Brewery does not contain adults.
500ml | 8% ABV
Customer Reviews
Happy Birthday
This is an absolute ripper of a beer. It's pretty hard to say that any Mountain Culture beer is the best they've ever done, but this one definitely makes the playoffs. If you like Mountain Culture NEIPAs then I think you will love this one, let's hope they do it again soon.