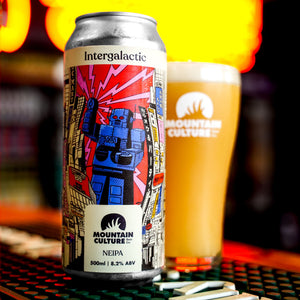 Almost four years ago, our co-founder DJ brewed our first beer from our Katoomba brewery - an experimental pale ale we called Juicy Pale.*
Today, we're celebrating our 300th release, and we'd love to say, "Look how far we've come!", but things seem oddly the same in many ways. We're still learning, pushing ourselves to improve, experimenting and some of us are still working from a shipping container.
This New England champions what we've learned from those 300 beers, but also mixes it up as we trial new ways to work with liquid hop extracts, taking inspiration from some of the new big players in haze coming out of America's Northeast. We've changed up whirlpool and dry hop timings, temperature and amounts in an attempt to enhance the proteins in this beer that give it its creamy body and lift hop characteristics. To minimise variables, we've gone with hop varieties we know and love: Citra Incognito, Mosaic Incognito, Citra Spectrum, Mosaic Spectrum and Strata.
Cheers, and here's to our next 300 beers!
*That beer is now known as Status Quo. You might have heard of it?!
500ml | 8.2% ABV