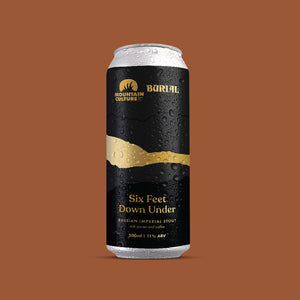 Six Feet Down Under (x Burial Beer Co) - Russian Imperial Stout w/ Pecans & Coffee

This stout is an homage to the USA, where you go big or go home. Sitting at 11%, it's our biggest beer to date and uses the highest kg/L of adjuncts ever (if you're looking for pecans, we took them all. Sorry.) It's rich, decadent and rounds out with a creamy, velvety finish on the palate.
500ml | 11% ABV
Customer Reviews
09/11/2021
Ben G.

Australia
Wow, bloody outstanding
Wow! Bloody outstanding on a warm Saturday arvo with some cheese and crackers. Please make again. So impressed!!
08/20/2021
Mark

Australia
Incredible
Incredible flavour, beautiful can, another great stout from MCBC.
08/17/2021
Marcus

Australia
Super Tasty Stout!
My order of Six Feet Down Under arrived today and I couldn't wait for Friday night to go big, so I'm going big on a Tuesday night, I'm in lockdown so all bets are off! The flavour is complex, it's deep, smooth and velvety. I've been pushing the boundaries of stouts, upping the ante looking for more punchy flavour and this batch doesn't disappoint, thank you!