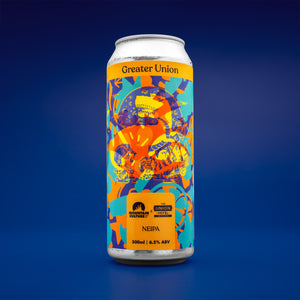 Greater Union (x Union Hotel) - NEIPA

The team at the Union Hotel in Newtown have been great friends and supporters of ours since inception, and a pub we've only been kicked out of once! As both a thank you and apology, we invited the entire team to Katoomba to brew their very own hazy IPA.
They picked one of our favourite hops, Cashmere, to be the star, and paired it with Mosaic, Citra and Galaxy. We found it provided heightened tropical notes and added to an exceptionally smooth, balanced profile. Initially brewed as a keg-only collab, we knew immediately that we had to get this into can because it tastes so good. And hopefully they'll let us back into the venue for a fresh one off tap, too!
500ml | 6.5% ABV