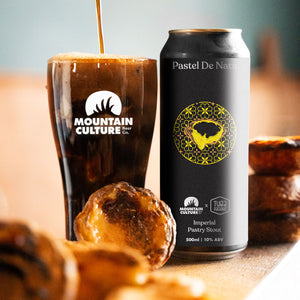 Pastel De Nata (x Tuga Pastries) - Imperial Pastry Stout

In 1837, the Catholic monks of Jeronimos in Lisboa, Portugal created the Pastel de nata, aka the Portuguese tart. 150 years later Gus Ferreria, the man responsible for Tuga's tarts, along with his wife Lucia and his young family began a journey from their Portuguese village to Australia with his secret recipe. Today his son Diogo continues his father's legacy, selling his famous hand pressed Pastel de nata across Sydney.
Diogo has quickly become the Mountain Culture teams favourite person by bringing up a literal truck load of freshly baked gooey tarts hat barely fit into the mash tun. Luckily, after some clever problem solving, we made it work and what we were rewarded with a creamy, sweet pastry stout.
It's the perfect Lisboa afternoon tea in a can - full of coffee and chocolate with mouthfuls of flaky pastry, caramelised sugar, custard and a hint of cinnamon.
Contains lactose, egg and milk products.
500ml | 10% ABV