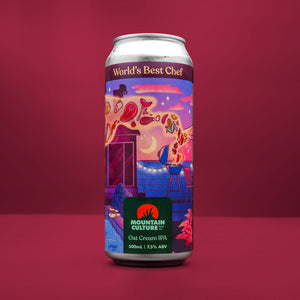 World's Best Chef - Oat Cream IPA

When dad cooks, it's always an event. The apron comes out, the music blares, there is an excessive amount of dirty dishes and, of course, there's a couple of beers by the BBQ.
That's why we created this beer to be the perfect accompaniment to a backyard BBQ, inspired by the warmer weather and designed to cut through dad's steak, no matter how 'well done' it is.
Using a blend of hops akin to dad 'winging it' in the kitchen, we've combined European Mandarina Bavaria, Australian Eclipse and some IPA hop staples in Citra, Mosaic and Centennial to mimic sweet, ripe mandarins, citrus, and tropical fruits that the whole (adult) family can enjoy to celebrate dad's special day.
After all, dads really are the best chefs in the world! Only ever surpassed by mums.
500ml | 7.5% ABV
Contains Lactose.